CALL: 901.363.4858

EMAIL: info@imperialwindowmfg.com

SPECIFICATIONS

MAIN FRAME

Gauge

Finish

Corners

Center Bar

All Frame Sills

Frame Dimensions

GLASS INSERTS

Gauge

Frame Size

Weather-stripping

Glazed

Ventilation

Glass

SCREEN INSERTS

Gauge

Spline

Screen Wire

Frame Size

STORM WINDOWS

MODEL 200 AND 250 DOUBLE TRACT

Imperial's storm windows are carefully assembled to meet your exact needs and specifications. Installing storm windows in a home or business is an excellent way to become more energy efficient, thus saving you money. For more information or to place your order, please contact us in our office.

.040 and .045 thickness

Mill finish, Bronze, White or Cream

Miter cut with 2 screws and seam sealer

at each corner

Installed parallel to meeting rail on prime  window, secured to main frame with screws at each side

Provided with weep holes near each end

1 1/2" jamb thickness & 5/8" installation fins

.045 thickness

3/8" thick - 13/16" extruded wrap around

Pile weather-stripping inserted in groove

provided in sash

Can be glazed with SSB or DSB glass and has marine type wrap around vinyl glazing.

A finger controlled spring latch located on each side on bottom of operating sash locks in closed position, locks in 2" safety position, and locks in several other positions for ventilation depending on size of window.

Glazed SSB unless otherwise specified

.019 roll form

Round vinyl retainer

16 x 18 fiberglass mesh

3/8" x 3/4"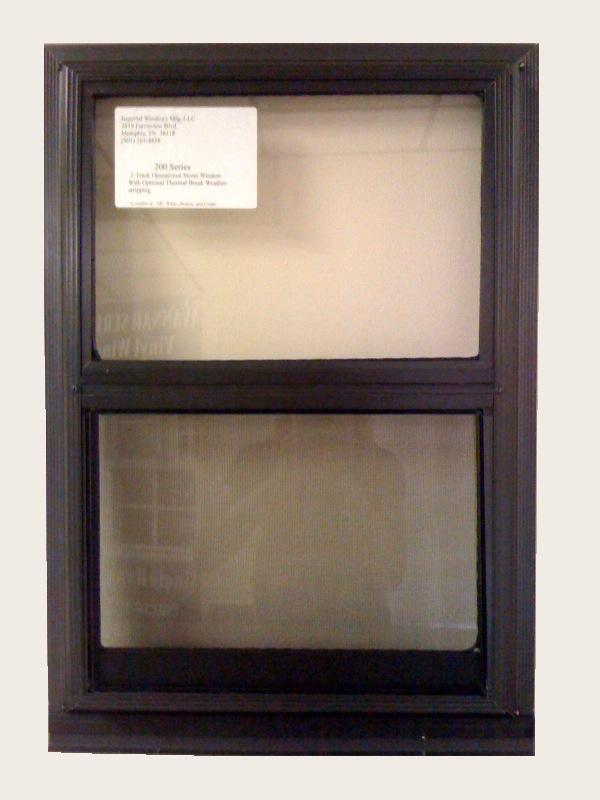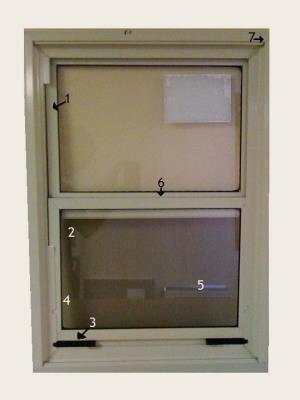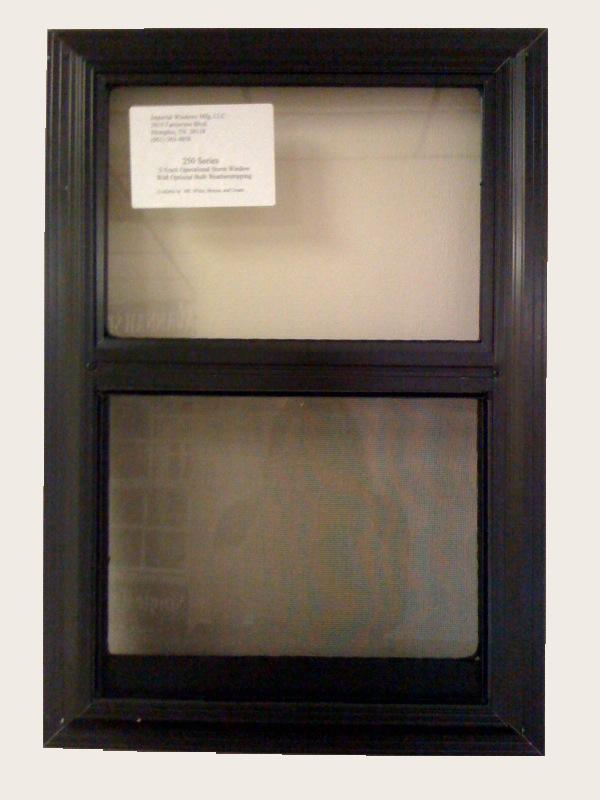 3. Spring Latch - Special design features finger grips for easy up/down operation. Automatic lock in closed position and our safety lock which engages two (2) inches above closed position.

4. Self-Storing - One time installation. No storage problems because panels remain in frame all year. Sliding panel locks securely into main frame.

5. Insect Screen - You can raise your windows, enjoy the fresh air and not have to worry about bugs and insects. Screens are easily removed for cleaning or replacement.

6. Center Crossbar - Securely joins each side member of the window to prevent twisting and turning of main frame and adds strength and regidity. The center crossbar also insures proper fit of the insert weather-stripping to the main frame.

7. Frame Construction - Our windows feature a strong frame construction with mitred corners that have a double screw lock to insure a square and permanent shape. All windows have a sealed corner utilizing a narrow joint seam sealer.

WINDOW ASSEMBLY

1. Glass & Panel Insert - Our inserts are made from extruded, heavy duty aluminum which are easily removed for cleaning. They have wool pile weather-stripping for better sealing and soft, vinyl marine seal which prevents glass-to-metal contact. Broken glass is easily removed without special tools.

2. Optional Full Sunscreen - An extra energy bonus! By adding a full sunscreen, you can reduce the sun's heat and glare by some 70%. The sunscreen is simple to install with clips which require no special tools Easy to remove, also.

IMPERIAL WINDOW MANUFACTURING, LLC

2819 Farrisview Blvd.    Memphis, TN 38118

P 901.363.4858     F 901.363.3732

LET US ASSIST YOU

CALL: 901.363.4858

Because each of our windows is custom made to your specifications, we are unable to take orders thru our website. Please contact us directly for a free estimate and order information.

IMPERIAL

window manufacturing